RESERVATIONS AVAILABLE! FOR MOKE ELECTRIC CARS, CLICK THE "MOKE" PAGE. FOR LED-ILLUMINATED SURREY NIGHT RIDES, CLICK THE "NIGHT RIDES" PAGE. FOR BIKE RENTALS
CLICK HERE TO RESERVE
Less noise, less pollution, more fun!
Moke Electric Vehicle Rental
From British classic to Caribbean icon, the Moke electric vehicle has become a symbol for fun in the sun. A Moke rental from Wheel Fun Rentals is the perfect way to enjoy all that Santa Barbara has to offer.
Enjoy an open-air drive through beautiful Santa Barbara, one of the West Coast's most attractive beachfront cities, in a Moke Electric Vehicle. Our Mokes are Low Speed Vehicles (LSVs) that feature a top speed of 25 mph and a maximum distance of 40 miles between charges.
Mokes are street legal and the perfect way to explore Santa Barbara with the sun warming your skin and the wind blowing in your hair, and with no emissions, they are environmentally friendly and efficient. Less noise, less pollution, more fun!
RATES: $59 per hour
Electric Vehicles Renting Requirements
Drivers must be 21 years of age.
Valid Driver's License  issued within United States (No foreign Licenses)
Children Must be at least 4 years old and able to ride in a booster seat.
Major Credit Card – NO Debit Cards  (Deposit for renting $150.00)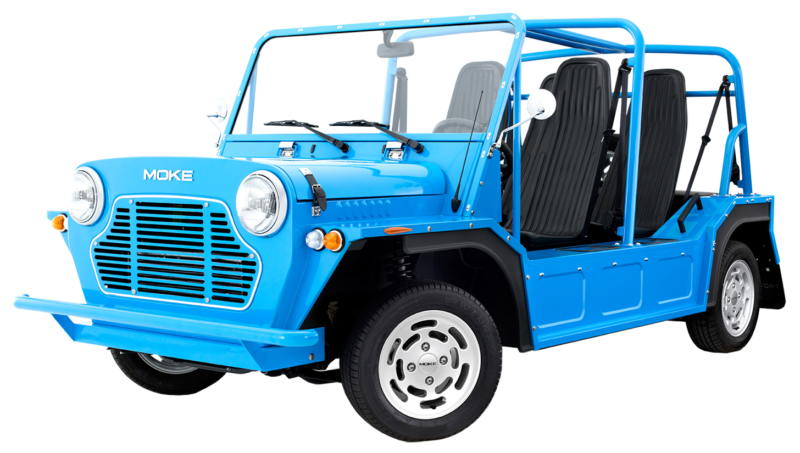 Additional Moke Electric Vehicle Guidelines:
Moke electric vehicles may only be driven on city streets with a posted speed limit of 35 MPH or less. They are not allowed on sidewalks, the bike paths, the beach or highway. A maximum of 4 people may ride in a Moke electric vehicle. Seat belts are required. No children under 13 years of age in the front passenger seat.