Back to All Press Release
Wheel Fun Rentals
Weekday Pontoon Boat Reservations & Electric Bikes Now Available at Eagle Creek Outfitters
For Immediate Release:
July 1, 2021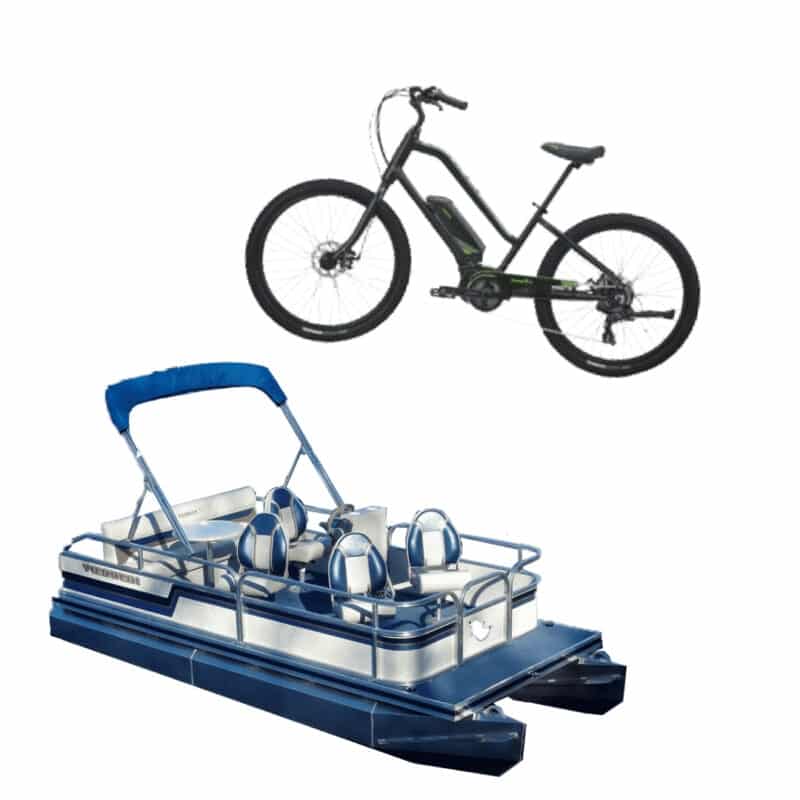 Indianapolis – Eagle Creek Outfitters by Wheel Fun Rentals is excited to announce the addition of electric bikes to the rental fleet and online reservations for weekday pontoon boat rentals on Eagle Creek Reservoir.
Eagle Creek Outfitters by Wheel Fun Rentals has operated the boat and kayak rental concession at Eagle Creek Reservoir since 2009. Since opening, pontoon boats have been their most popular offering with wait-times and lines often being long during the summer season.  The new online reservation system allows visitors to pre-book their weekday pontoon boat rental so they can spend more time on what they came to Eagle Creek Park to do, which is relax and have fun! Plus, the addition of electric bikes for rent allows people to explore the park by land without ever breaking a sweat!
"We're thrilled to now offer electric bikes and a convenient option for our customers to reserve a weekday pontoon boat rental in advance, " said Marc Dixon, Wheel Fun Rentals' Indiana Area Manager. "Spending quality time and having fun with friends and family just can't be beat. Being able to plan ahead and not spend time waiting in line allows our customers to have more time to enjoy the outdoors at Eagle Creek Park and Reservoir."
Pontoon boat rental reservations are available Monday – Friday mornings at 9:20 am, 9:35 am, 9:50 am, and 10:05 am. Weekday afternoon and weekend pontoon boat rentals remain walk up only at this time. The cost to make a reservation is a $25 deposit online, with the balance of the rental due upon check in.   A $150, per boat, refundable deposit is also required and is to be paid upon arrival at Eagle Creek Outfitters. Pontoon boats can accommodate 4-7 people (up to 1400 lbs maximum), have a 9.9 HP outboard engine, a Bimini top for shade, and all passengers must wear a life jacket. To reserve a weekday pontoon boat rental at Eagle Creek Park, visit wheelfunrentals.com/pontoon-rental.
For land enthusiasts, it's time to pass on traditional two-wheel bikes and opt for something more fun! The new electric bikes are lightweight and easy to ride. Specifically designed with comfort in mind, these bikes allow for easy up-right riding with very little pedal effort. You'll fly up hills of all kinds without even noticing you are on an incline – it's kind of like magic. Rental rates start at $20 an hour and riders must be 16 years of age or older. For more information on the electric bikes visit wheelfunrentals.com/ec-electric.
Wheel Fun Rentals has been in the recreation business for over 30 years, and is the nation's leader in outdoor recreation activities. For more information on the Eagle Creek Outfitters by Wheel Fun Rentals, hours of operation, and available kayak tours and boat rentals visit eaglecreek-outfitters.com.
###
Media Contact:  Marc Dixon  •  (317) 908-8984  •  marc@317outfitters.com
About Wheel Fun Rentals
Founded in 1987, Wheel Fun Rentals started with four wheel Surrey cycles, evolved into specialty bike rentals and bike tours, and now offers recreational rentals of all kinds from more than 100 outlets in 16 states. Specializing in unique bikes and tours, Wheel Fun Rentals has been offering clean, healthy family fun and affordable outdoor entertainment to nearly 3 million customers annually from city and state parks, resorts, and retail outlets through corporate locations and franchised territories. For more information about Wheel Fun Rentals please visit www.wheelfunrentals.com or call 805-650-7770. Follow Wheel Fun Rentals: @WheelFunRentalsOfficial on Facebook, @WheelFunRentalsOfficial on Instagram, and @WheelFunRentals on Twitter.