Back to All News
The Seaside Signal
Beach Wheelchair Storage Unveiled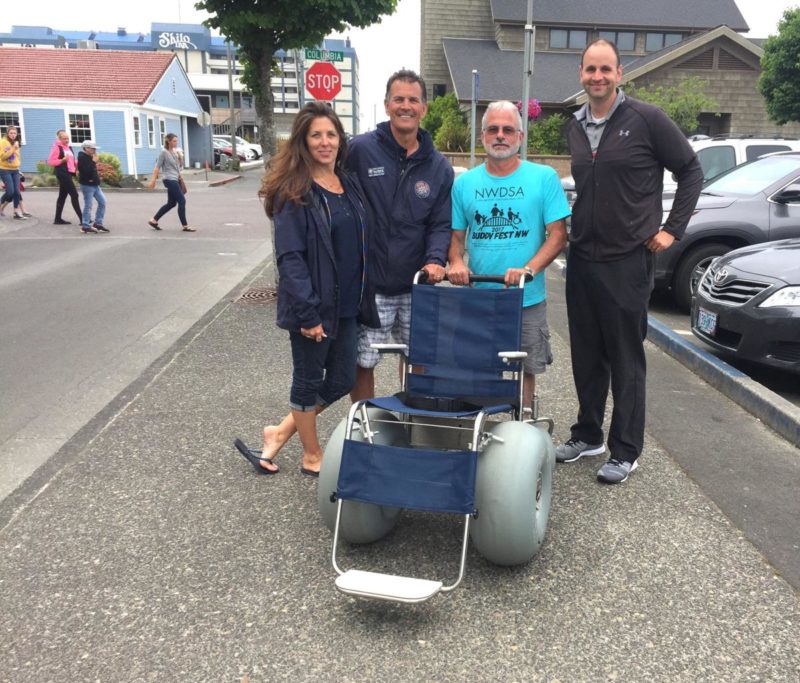 Seaside just made it easier for residents and visitors to use beach wheelchairs for those experiencing mobility disabilities.
After a $9,000 grant from Travel Oregon, the Sunset Empire Park and Recreation District purchased and installed the weatherproof beach wheelchair lockers in downtown Seaside, which debuted Wednesday, Aug. 7.
The beach wheelchair program offers wheelchairs to the disabled at no cost.
"This is one big step for accessibility for everyone at the beach," Mayor Jay Barber said as he wielded the ceremonial scissors, unveiling three new storage lockers in the city parking lot near Oceanway, designed to hold three beach wheelchairs. Users can stow their own wheelchairs when using the specially adapted models with fat balloon tires to provide easy access and mobility on the sand,
The program, inspired by a similar program initiated in 2017 in Cannon Beach, came to the district via Seaside's Randy Anderson, who began discussions with the district. Patrick Duhachek, owner of Wheel Fun Rentals agreed to donate two wheelchairs.
In addition, Anderson gave the district a heavy-duty beach wheelchair designed to carry weight of up to 350 pounds.
"Wheel Fun had two beach wheelchairs that they had been renting out for visitors," said Sunset Empire Park and Recreation District's Darren Gooch at Wednesday's ribbon-cutting. "Randy's vision was to somehow make those free and available to folks who come to town, or even our own residents."
Read Full Article on the Seaside Signal >>
Written by RJ Marx