Back to All News
Daily Astorian
Gearhart Latest Coast City to Consider Beach Wheelchairs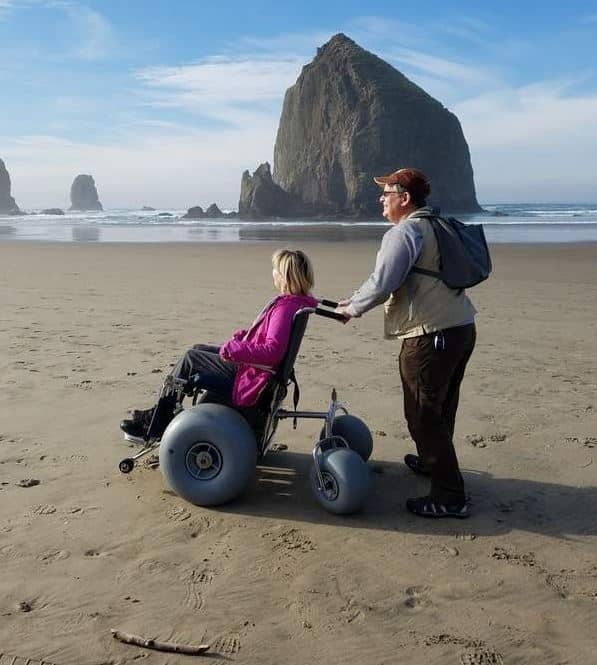 GEARHART — Access to free beach wheelchairs for people with disabilities could move to Gearhart, following in the tracks of Manzanita, Cannon Beach and, most recently, Seaside.
Randy Anderson, who helped pioneer the Seaside program, went before the Gearhart City Council on Wednesday to propose a similar service in Gearhart. He also offered to launch the Gearhart program with the donation of the city's first wheelchair.
Anderson proposed a partnership with the resort Gearhart by the Sea to provide storage closer to the beach. "Then it's right on the beach access road," he said.
Visitors could park on Ocean Way or North Marion, he said, and access the wheelchair by using an electronic code. He said he would provide maintenance on the wheelchair.
"What a worthwhile program to get started," Mayor Matt Brown said. "I'd be very interested in seeing this happen."
Seaside's beach wheelchair program opened for free public rentals in July, administered by the Sunset Empire Park and Recreation District.
The first person to use the program in Seaside was a 16-year-old girl, Anderson said at the Gearhart meeting.
"This was the first time she was able to access the beach, touch beach sand and touch the ocean," Anderson said. "A perfect start." Seaside has two wheelchairs in service, both donated by Patrick and Denise Duhachek of Wheel Fun Rentals. Anderson has donated a third wheelchair to Seaside, expected to be available later this month.
"They're pretty durable and they move pretty easy," Anderson said. "When you get into some of the softer sand, it's a little difficult, but when you get into the hard-packed sand, it's a breeze."
Anderson asked the city to cover the cost of a $13 per month insurance policy.
The budget could "take on this cost," City Administrator Chad Sweet said. "The risk is pretty low. And I like the public-private partnership on this."
Resident Jeanne Mark suggested establishing a fund for additional wheelchairs. "If the one is successful, it's likely we can fund another," Mark said./
Daily Astorian, Article by R.J. Marx