Back to All News
1859 Oregon Magazine
Oregon Trip Planner: Seaside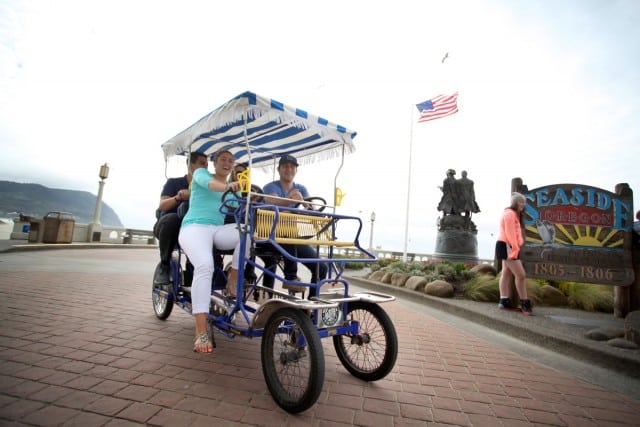 When SacagAwea, Meriwether Lewis, William Clark, and his family's slave, York, and the rest of the weary band of explorers reached the edge of the tumbling Pacific in 1805, the list of fun stuff to do in Seaside was fairly short. Namely, collect salt.
To cure meat for the journey back east, a crew was dispatched in early 1806 to Fort Clatsop, fifteen miles away. The men maintained a full-time low-tech salt works, boiling seawater on the gently curving beach, where access was easy and peaceful Clatsop tribal families were accommodating.
A century after the Corps of Discovery Expedition broke camp, the hamlet was buzzing as Oregon's first coastal resort. The list of fun stuff had grown to include saltwater in the form of sticky-sweet taffy.
Today, Seaside, population 6,445, is an eclectic mix of the old, the not-so-old and the new, which is often designed to look old, or the coastal weather has helped it along. For a town whose livelihood relies on attracting new generations of beachgoers, Seaside happily keeps a foot in its past.
Along the pedestrian-friendly thoroughfare, Broadway, tourists bounce in sixty-year-old bumper cars, prowl a 110-year-old candy shop and grab a microbrew at Seaside Brewing Company. At seemingly every stop, black-and-white photographs are part of the décor.
While vintage reigns, it also rains plenty. Even in summer, when Seaside is home to a succession of fair-weather events including the Hood-to-Coast relay finish line, it's a good idea to toss waterproof gear in the overnight bag.
At the end of Broadway, a statue depicts Lewis and Clark, with Newfoundland dog, Seaman, gazing westward toward the nonstop somersaulting waves. You can almost hear Lewis say: "I've grown weary of salt. How about a beer?"
The beach is just a half block away. During summer months, lifeguards keep watch and volleyballs constantly pop into the air. For the adventurous soul there's clam and sand-dollar hunting at low tide. In town, you can pedal on land or water. Wheel Fun Rentals offers multipassenger surrey bikes and pedal boats on the Necanicum River.