Back to All News
The Daily Astorian
Partnership To Bring Wheelchairs To The Beach
Seaside will join Manzanita and Cannon Beach as the third coastal town with free wheelchair access for visitors. The program, which will offer wheelchairs to the disabled at no cost through the Sunset Empire Park and Recreation District, was inspired by Seaside resident Randy Anderson.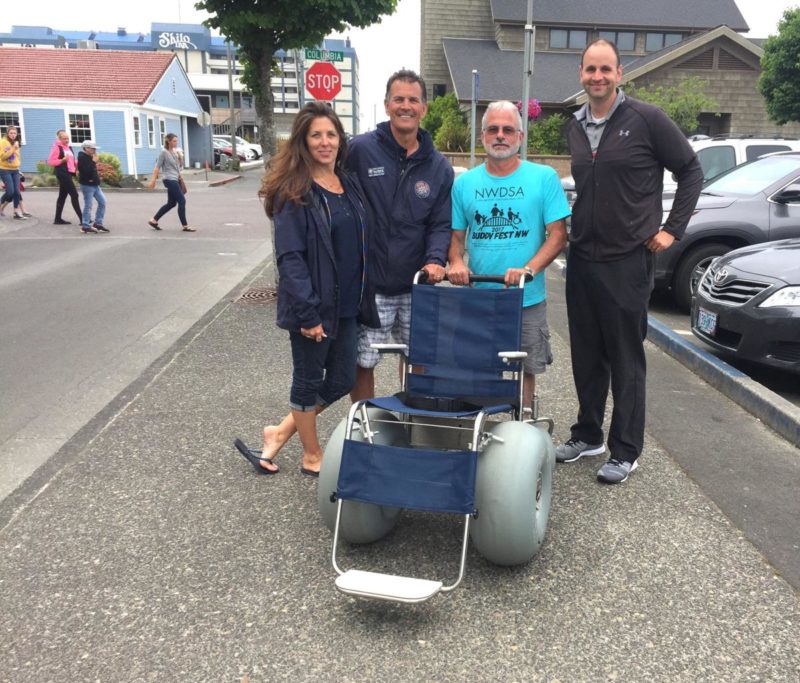 "I would like to propose to the city of Seaside to begin a long-needed service in a 'free of charge' beach wheelchair program to help people experiencing mobility disabilities to be able to safely and easily access our beaches," Anderson said in a City Council presentation in June. "Typical wheelchairs and sand do not mix." The beach wheelchairs are designed with "fat balloon tires" to provide easy access and mobility on the sand. "I've walked down the Prom and seen people with mobility issues looking out at the beach wishing they could get out there," Anderson said. "It's just heartbreaking to see."
Anderson, whose daughter has a disability, said he is a "huge advocate" for all people experiencing mobility challenges. Anderson researched the Cannon Beach wheelchair program initiated in 2017 by the Haystack Rock Awareness Program and the Cannon Beach Chamber of Commerce.
The chairs may be checked out at Cannon Beach City Hall. Anderson met with outreach coordinator Pooka Rice, who helped initiate the program. From Jan. 1 through June 18, Cannon Beach has accommodated 84 requests for the use of their wheelchairs, Anderson said. Anderson brought his concept to Russ Vandenberg, general manager of the Seaside Civic and Convention Center. With construction underway at the convention center, Anderson's first choice — storage of the wheelchairs at a city location close to the beach — was impractical. Vandenberg encouraged Anderson to talk with Skyler Archibald, executive director of the recreation district. Archibald saw it as a "good partnership" and brought the proposal to the district's board of directors for consideration.
The program got an added boost when Patrick and Denise Duhachek, owners of Wheel Fun Rentals in Seaside, agreed to donate two wheelchairs. The Duhacheks had provided wheelchairs to visitors at no cost through Wheel Fun Rentals but will transfer storage and administration to the district. The wheelchairs, which run about $1,800 to $2,200 each, will be available for free from the district at the Bob Chisholm Center on Avenue A.
"I'm thrilled that they're going to take it over," Denise Duhachek said. "But now that they (the wheelchairs) are actually going to leave, it's kind of sad. We've gotten so many letters of gratitude. We're going to miss the interaction."
The audience at the City Council meeting in June greeted Seaside's new program with applause.
"I thought it would take some time and I was really pleased how little time it took," Anderson said after the meeting.
With a council endorsement, Anderson plans to purchase and donate a third wheelchair, he said. If successful, he said he will apply for grants or solicit donations to expand the program. The city of Gearhart has shown interest in creating its own wheelchair loan program, he added, with details to be presented at the city's Thursday council meeting. The effort was also spearheaded by Anderson.
Wheelchairs are available from the recreation district, Archibald said. "The only challenge we're working through is our proximity to the beach, which is not as great as it could be."
R.J. Marx is The Daily Astorian's South County reporter and editor of the Seaside Signal and Cannon Beach Gazette.