Back to All News
The Daily Astorian
Southern Exposure: Wheel Fun Rentals Gets On Track In Seaside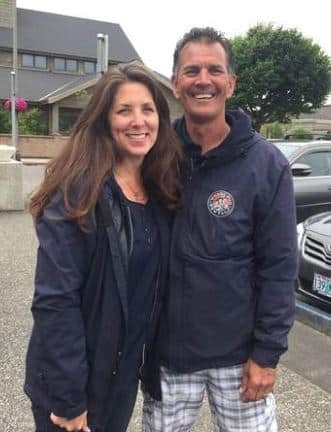 Former Signal columnist Claire Lovell would be happy. Lovell, who often lamented the passing of what she lovingly referred to as "old Seaside," wrote in 2015: "Why doesn't the person who owns the little train on Broadway either fix it up or remove it so someone else can use the space?"
Lovell, of course, was the long-running columnist and chronicler of old Seaside. Lovell died at age 96 in 2017. "I see little children with their fingers clasped in the fence, look longingly at the little choo-choo and wish they could take a ride," she wrote. "Now there are the carousel, bumper cars and a bucket on the beach. Whoopee!" Recalling Claire, I think that was a sarcastic "whoopee" on her part. But her longing for the return of the miniature train, which ran for years on Broadway on the site of the former Strand Theatre, will soon become a reality.
Patrick and Denise Duhachek are redeveloping their South Holladay Drive property and adding a quarter-mile miniature ride-able railway. "It makes you feel like you're 13 again," Patrick said in early June. "It's Pat's hobby," Denise added. "He loves it. He has so much fun restoring stuff."
Family affair
In years past, visitors to Seaside enjoyed classic rides like the Octopus, Rock-O-Plane, an ornately decorated carousel and a roller coaster called the Wild Mouse. The Duhacheks purchased the half-acre South Holladay Drive property on Avenue C from the estate of Denise's father, Jimmy Rogers. Rogers owned Wheel Fun for 25 years before his death in 2013.
Now the couple plan to build a storage barn and retail facility, adding the miniature train — purchased from Mark and Marci Utti, owners of the Times Theatre, Finn's and Twisted Fish among other downtown properties — as an added amusement. Designs show a motorized vehicle rental and storage facility, along with the outdoor amusement ride. With Planning Commission approval in early June, the Duhacheks now have a go-ahead.
The showroom will be one of four Wheel Fun Rentals locations in Seaside. Their two downtown shops offer pedal-powered vehicles: Surreys and bikes "and stuff that goes on the beach." Another location offers paddle boats on the river. While the train will attract the kiddos, the Surreys remain Wheel Fun Rentals' most popular attraction. "We rent more of the double Surreys with the two bench seats than anything else," Patrick Duhachek said. "There are some specialty bikes each offers, but each has a niche of what they might offer."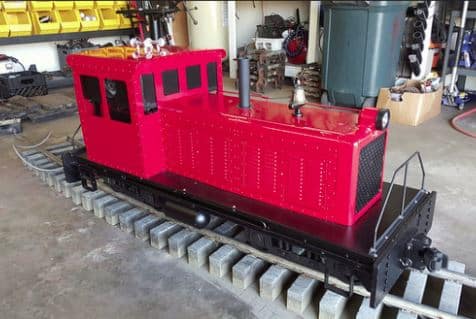 Working on the railroad
To learn the ins and outs of railroading, Patrick Duhachek has been taking his studies seriously by visiting amusement parks with similar attractions, participating in online railroad forums and reading specialty publications. At its former location, the train ran on an aluminum track. The new rails will be made of steel. "I still have a bit of a learning curve for putting down train track," he said. "I'm learning as fast as I can."
Duhachek is not sure yet what the scenery around the track will look like, whether it be old Seaside — or whatever. "We know we have to have a tunnel," he said. "There will be some landscaping, a water feature — we're kind of making it up as we go along."
The battery-operated train will be followed by six cars and a caboose. The conductor will sit in the second car and run the train around a quarter-mile track. The new showroom, with three 18-foot glass-paned garage doors for public viewing, will offer Surrey bikes, bicycles, mopeds and motorized electric golf course, along with a small shop for bicycle repairs.
The storage area will shelter train cars at night, along with boat rentals, Surrey rentals and other vehicles.
All aboard!
Wheel Fun Rentals' newest venture will join a surge in local amusements, from the Seaside Inverted Experience, the Seaside Shootout and the laser tag arena at the Seaside Carousel Mall. The Duhacheks hope to open next the new facility next summer. "I have a lot of people who are grown-ups now and remember riding the train, and they're excited to have their children ride it," Patrick Duhachek said.
For the rest of us, whether we remember "The Little Engine that Could, "Chitty Chitty Bang Bang" or "Thomas and Friends," the train will be a nostalgic nudge to put us all on track. "We're excited to get going, to have a new building," Patrick Duhachek said. "We're excited with the support from friends and support from the city." He would get a nod of approval from our former Signal columnist. "I always believe old Seaside was a lot more fun," Lovell wrote in 2015.
The Daily Astorian, Article by R.J. Marx >
R.J. Marx is The Daily Astorian's South County reporter and editor of the Seaside Signal and Cannon Beach Gazette.