Back to All News
Seaside Signal
View from the Porch: The Caboose is Loose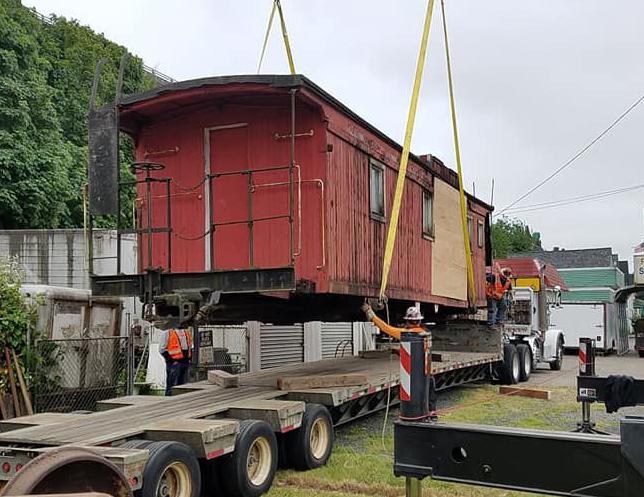 If you're inclined toward observation, you may have noticed something out of the ordinary on South Holladay Drive, not far from Broadway. It's a railroad car, a caboose in fact.
Its owner, Patrick Duhachek, owner of Wheel Fun Rentals, says it's 116 years old. After being used as a piece of playground equipment in Clatskanie, in the early 1990s it belonged to the Astoria Railroad Preservation Association where it sat on the property of a lawn and garden shop.
Now Duhachek, the caboose's new owner, has set his mind to restore it.
Once upon a time when the caboose was a working railroad car affixed to a train, it ran between Spokane and Portland, or between Portland and Eugene.
As far as Duhachek can determine, Caboose No. 026 was built in the Northern Pacific Railroad shop in Tacoma, for use on the Willamette Valley Line.
The working history of the caboose is, at least for now, a bit unclear; it may have been used at times on freight trains as a rolling office or observation car, and it also may have been used to protect the rear end of the train when the train was in the terminal.
The caboose was also a rolling home for train crew, including the conductor and the rear brakeman and the flagman.
Although the caboose is just a shell now, at one time it was fitted with a desk for railroad paperwork involving bills, wheel reports, and timekeeping. It's easy to see where there was room for three bunks, a fold-down table, an icebox and food storage, as well as a stove, a water tank, a sink and a toilet. Built in 1903, this caboose was retired in 1948.
Here's a few fun facts about the caboose. Common nicknames for this car included "Little Red Shack," "Parlor Car," "Shanty," "King's Castle," and "Old Men's Home." Cabooses were also called "crummy," which was a nicer way to imply they were repositories for body lice. Each set of wheels weighs 7,000 pounds. The caboose itself weighs 24,000 pounds. I asked Duhachek how he got it from Astoria to Seaside; he said the Ness Campbell Crane Company out of Portland moved it.
Duhachek was kind enough to give me a private tour. There's no way to get into the caboose except to climb a ladder. While it does need work, it's easy to imagine where the train men sat, and were able to cook and eat a meal, and where whoever was responsible for driving it would have to be to get the best view of the track.
Duhachek said it'll be awhile before he can complete the restoration, but he's excited about the prospect. Meanwhile, next time you're in that part of town, aim your eyes east and take a gander.
It's not every day you see a genuine caboose in someone's yard.
Read Full Article at the Seaside Signal >>
Written by Eve Marx