Back to All News
SeasideOregon.com
Rent One of Seaside's Paddle Boats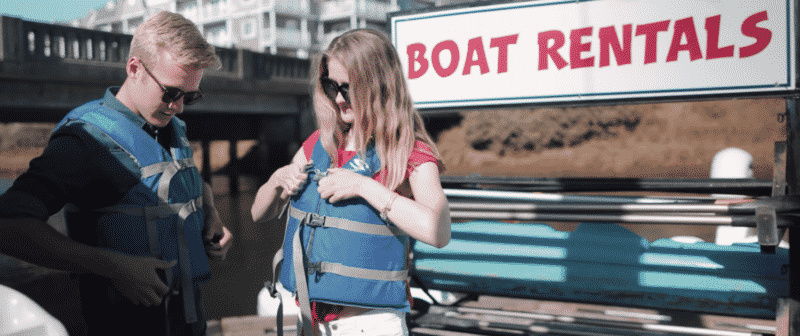 The Necanicum River
Less than half a mile from the Seaside Turnaround and the shore of the Pacific Ocean runs the Necanicum River. The river, named after the Ne-hey-ne-um Indian tribe that once lived on its shores,  runs right down the middle of Seaside and is a total of 21 miles long. The name was previously named the "Clatsop" River by William Clark when the Lewis and Clark Expedition reached the West in 1806 – the name did not stick.
Wheel Fun Rental Company
Wheel Fun Rentals, the primary watercraft rental company in Seaside, has a launch site just under the 1st Ave. Bridge, near the Seaside Convention Center. The company offers paddle bikes, swan boats, 4 peddler boats, kayaks, and stand up paddle boards. Most options fall under $30 an hour and are an awesome option for people and families looking for some fun. Not interested in frolicking in the water? Wheel Fun Rentals has multiple locations in Seaside that also offer land cruiser. Choose from a classic Surrey, regular bikes, two-person bikes, mopeds and more! The waterway boaters travel along passes under three bridges and offer up scenic sites including Great Blue Herons, marine life, and whatever you may come across on shore.
The Rentals
The Paddle Boat – 2 Person Occupancy
This awesome water tricycle is great for all ages! You'll be gliding across the water in no time with the Paddle Boat's wide paddles. Enjoy a smooth, stable ride with this old-time option.
The Swan Boat – 4 Person Occupancy
Glide across the water in style while commandeering a Swan Boat. Fun and eye-catching, these boats are perfect for romantic dates or a family outing.
The 4 Peddler Boat – 6 Person Occupancy
4 Peddler Boats are perfect for couples looking for a fun and creative date or a family looking to share the great outdoors with their children! For your comfort, each pedal mechanism is independently controlled, so you'll have the option to sweat it out with a strenuous leg workout or take a leisurely trip around the lake!
Kayak or Double Kayak – 1-2 Person Occupancy
Sleek and easy to maneuver, kayaks are a great choice for riders seeking a watery adventure! Come prepared to get a little wet from the drip of your paddle and splash of the water!
Stand Up Paddle Board – 1 Person Occupancy
Enjoy paddling through tranquil waters on a stand-up paddleboard. Easy to learn, and fun even for beginners, you'll have a blast regardless of your desire for a workout or for a leisurely paddle to explore your way around the water.
To be safe, we never recommend bringing valuables or electronics when cruising down the Necanicum River in one of Wheel Fun Rentals many rental options. Even the most experienced paddlers or Stand Up Paddle Boarder makes mistakes! And as always, follow all safety and rental regulations implemented by Wheel Fun Rentals.
Open seasonally, Wheel Fun Rentals keeps the water crafts available for rent from mid-March – mid-October. Check out their website to view their hours and rates. The new perspective(s) you will experience while on the Necanicum River will leave you wanting to come back for more during your next visit.